Email Signature Code Snippet
Turn Every Sent Email Into a Feedback Opportunity
Add to Your Website to Gather Reviews
Try it... Click the button...
If the goal is to give your customers every opportunity to provide feedback, GatherKudos wouldn't be complete without an easy method placed on your website! We usually recommend placing this in your website footer. This button code allows you to easily tell people they can just click the "Review Us" button at the bottom of your website.
Intelligent Email Drip Campaign System
Easily start a series of emails to help gather feedback & drive reviews.
Send us a spreadsheet customer list with Name & Email.
We do a mail-merge email-blast on your behalf.
If they don't take action in 3 days we send a follow-up.
If they don't take action in 7 days we send a final nudge.
You get lot's of initial feedback & reviews.
Get to work on the feedback.
Enjoy the beginning of an improved reputation.
We have intelligent safeguards in place to prevent excessive emails, too frequent repeat drips, & too many reviews in a single day (looks unnatural).
Only 100 users actively in the drip concurrently.
Only 10 new users activated for the drip per day - to spread out reviews.
Users can only be repeat dripped to once every 90-days
This helps make it dummy proof. You can feed people into the drip as often as you want without having to worry about whether you already put them in previously - our system will prevent more than one drip in a 90 day period.
The Emails (can be customized)
Hi [[first_name]],
Thanks for choosing [[profile_name]]. I'd like to personally invite you to share your experience.
Your feedback not only helps us, it helps other potential customers. It takes only a moment and would mean the world to us:
Or browse to [[profile_url]]. Thank you for your business and support!
Review Monitoring & Notices
Get Notified When You Get New Reviews So You Can Respond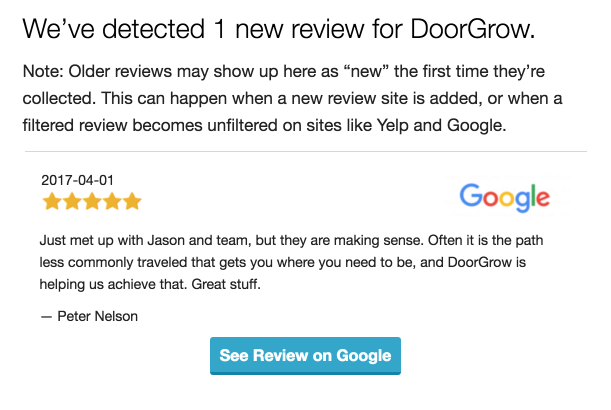 Track Your Reputation Progress
Show recent positive reviews on your website to increase lead capture
Dramatically increase response rates by sending text message invites.